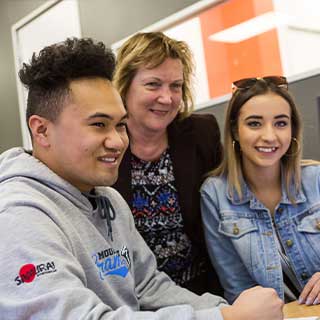 Career Services – [email protected]
Today's employers and businesses look for job ready individuals who can communicate, creatively problem solve and put their learned knowledge into action quickly and responsibly. We are committed to helping you future proof your career journey and ensure you can transition in today's world with the job ready skills and experience employers are looking for. Our team vision is to support you in unlocking your career potential. We do this by helping you navigate your education and career journey through:
Employability workshops covering in demand skills
1-1 career mentoring, online and virtual
Opportunities to engage with guest speakers from industry
Support with securing work experience and volunteering opportunities
Support with securing part-time and full-time employment or clarifying study options
Receive career support during your study and after
Skilled Crew is a professional recruitment agency specialising in providing on-demand skilled staff for the hospitality industry. As a part of New Zealand Skills and Education Group, we have more than 19 years experience providing talents and skillsets for our community and industry across the Auckland and Waikato region. With a wide range of network in hospitality sector, Skilled Crew is passionate about finding solutions for individuals as well as businesses.
We can provide you with the immediate support you might need in your life but also can provide advice in shaping your career path. We aim to provide opportunities for you to make money by doing what you are passionate about. Our team are warm, welcoming and easy to talk to, you will find the whole process simple and easy.