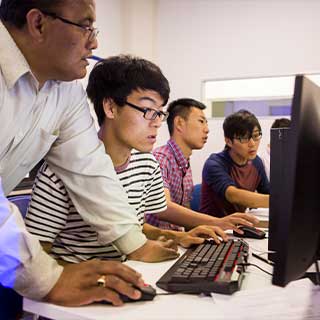 The NZSE IT Support team are here to help all staff and students and will promptly action support requests as soon as possible. To request IT Support, just send an email to [email protected] with a few details on what you need help with.
Supporting our students on their journey to success is a key priority for everyone at NZSE. The support we provide is aimed at both solving problems and providing direction and education to help prevent problems occurring in future. You can expect empathy, clarity, and enthusiasm from our IT Support Team who will always aim to satisfy your technology needs.
BYOD transforms students' experience of learning by enabling them to use their own devices to access learning materials and resources 24/7 on any campus and from home or any other place where they can connect to the internet.
Chrome Books are available for use for our Youth Guarantee Students.
NZSE campuses with their dedicated premium fibre optic internet connections are designed to support student learning through the use of students' own devices.
A number of retailers offer special discounts on electronic items for students. You can visit our preferred supplier PB Tech who will be happy to assist you.
BYOD Specifications Laptop (General)
10-inch screen or larger
4GB RAM
Hard drive with 50GB of free space
Windows 10 Pro (minimum) OR Apple Mac 10.8 (Snow Leopard minimum)
Intel i3 processor
Up-to-date Anti-virus software
Wireless capable
Laptop (IT and Business Technologies students)
Windows 10 64-bi
17 4-core or equivalent/higher processor (e.g. Intel 17 or AMD Ryzen 7)
6GB RAM
512GB SSD or larger recommended
Wireless capability (802.11ac or above recommended)
At least a 14-inch screen or larger
Built-in webcam, speaker, and microphone (good quality headset with boom mic recommended)
An updated anti-malware solution needs to be used at all times
Tablet
10-inch screen or larger
Keyboard accessory
Android v4.1, Windows 8, iOS v6 or higher
Wireless capable