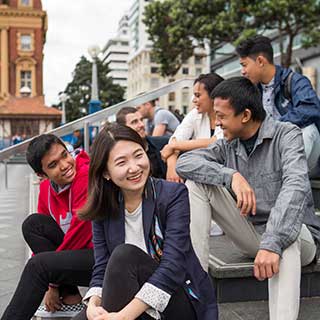 New Zealand is one of the world's best places to live and study. Discover our internationally renowned education system and unbeatable lifestyle. New Zealanders have a welcoming nature and an easy going attitude. A peaceful country, with a low crime rate, the two islands forming New Zealand are blessed with a natural beauty second to none, offering an amazing quality of life and work life balance. We are based in two major NZ cities: Auckland and Hamilton.
New Zealand, well known for its natural beauty and for being the stunning location for many big budget films (e.g. The Lord of the Rings), offers you the chance to explore an incredibly diverse environment. Travel from the sub-tropical north, through the volcanic plateau in the middle of the North Island to the coastal beauty of the lower North Island. Over the Cook Strait to the golden sands of the top of the South Island and the breath-taking mountains of the Southern Alps, then to the rugged country and fields of the far south. New Zealand is famous worldwide as a producer of fine food, and good eating is a favorite pastime enjoyed. The national cuisine has been described as Pacific Rim, drawing inspiration from Europe, Asia and Polynesia. Roughly the size of California, no other country on earth makes discovering nature, wine, food and adventure so easy, affordable and accessible.
Auckland or Tāmaki Makaurau is New Zealand's largest city with a population of 1.4 million people from a variety of cultural backgrounds. Also known as the City of Sails, Auckland is a modern and vibrant city, well-known for its mild climate, glorious scenery and very friendly people. There is so much to do here with great outdoor and indoor activities. To make the most of your time here, we recommend that you get out there and experience what Auckland has to offer. Auckland enjoys a warm coastal climate without extremes of temperature. The average daily temperature during January and February is 23 degrees Celsius (74 Fahrenheit), and during July and August, the average daily maximum is 14 degrees Celsius (57 Fahrenheit).
Hamilton or Kirikiriroa is at the centre of one of the richest agricultural and pastoral areas in the world and is a major service centre for the Waikato region. Hamilton has a diverse economy and is the third fastest growing urban area in New Zealand. Education and research & development play an important part in Hamilton's economy as the city is home to over 40,000 tertiary students. Hamilton's central business district is a bustling retail precinct with vibrant entertainment areas.
Hamilton City, lying on the Waikato River in Central Basin Waikato enjoys a hospitable climate year-round with warm, humid summers, cool to mild winters and moderate rainfall.
New Zealand has an unlimited range of tourist attractions and activities, located throughout the country. There are many free visitor attractions such as walks and museums in addition to huge range of other attractions and activities that New Zealand is famous for.
Often considered an adventure playground, key ways to explore the great outdoors include mountain biking, surfboarding, bungee jumping, snowboarding, skiing and hiking. Many of New Zealand's mountain regions offer skiing and snowboarding in the winter. In the summer it is possible to surf in the morning and visit a glacier in the afternoon. Popular sports include the national game of rugby, as well as netball, cricket, squash, sailing and soccer. New Zealand maintains a high professional standard in a number of sports notably Sailing (former America's Cup holders) and rugby (The All Blacks).