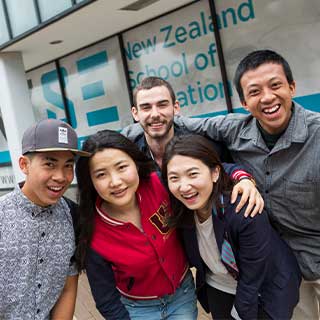 Please check out the information below to familiarise yourself with various aspects of life in New Zealand. If you require any additional information, please contact our team or check out our Student Support page.
NZSE can book your homestay through our contacted Homestay partners. Homestay accommodation offers an excellent opportunity to live in a family environment, practice your English language skills, and experience the New Zealand lifestyle. Homestay rates generally cover accommodation and two meals (breakfast and dinner) per weekday, and three meals during weekends and on public holidays. Please request your homestay at the time of enrolment into the programme or at least four weeks prior to arrival in New Zealand from your home country.
Cost of Living in New Zealand
In order to live comfortably while you are in New Zealand, you will need to have about $20,000 NZD per year available for living costs, above the cost of your tuition. The cost of living in New Zealand is comparable to what you'll find in any OECD country. You will receive advice from our Student Support team during orientation on how best to handle your money, but initially it is important to note that you should have some New Zealand cash for immediate expenses (e.g. airport costs or transport). You may need further funds in the form of traveller's cheques, which can be readily cashed. There are foreign exchange offices at the international terminals in each New Zealand airport.
Medical and Travel Insurance
The New Zealand Government requires that students have medical and travel insurance before travel and during their studies at NZSE College and the period living in New Zealand.
Most international students are not entitled to publicly funded health services while in New Zealand. If you receive medical treatment during your visit, you may be liable for the full costs of that treatment. Full details on entitlements to publicly-funded health services are available from the New Zealand Ministry of Health. The Accident Compensation Corporation (ACC) provides accident insurance for temporary visitors to New Zealand but you may still be liable for all other medical and related costs. Further information can be viewed on the ACC website.
In New Zealand, there are plenty of GPs available. You can find more information on accessing GPs in both Auckland and Hamilton here:
Auckland District Health Board
Hamilton District Health Board
Your insurance must meet the requirements of the Education (Pastoral Care of International Students) Code of practice 2021. A copy of the code is available in English on our website. You can also read the Code in different languages from the NZQA website.
International students who are enrolled for educational instruction of 2 weeks' duration or longer must have appropriate insurance covering the following:
Local currency is the New Zealand dollar. There are 10c, 20c, and 50c, $1 and $2 coins, and $5, $10, $20, $50 and $100 notes.
We strongly recommend that while in New Zealand you do not carry large amounts of cash. We suggest opening a bank account as soon as possible after arrival. All major banks have branches within 100 meters of the Campus. You can also purchase goods using EFTPOS (Electronic Funds Transfer at Point of Sale) at nearly all retailers. Any large amounts of money may be sent in the form of a bank draft, however, electronic transfers are, in most cases, the most efficient method of sending funds to New Zealand. Overseas cheques are sometimes difficult to clear and are not recommended.
Goods and Services Tax (GST)
All goods and services in New Zealand are imposed with a 15% Goods and Services Tax (GST). Under law, the prices displayed must include the GST content.
Tipping is not normally the custom at New Zealand airports, taxis, hotels or restaurants.
We would like your student journey to be a safe and enjoyable one. New Zealand is a safe and friendly environment, however you are recommended to take precaution as you would in any large city. The videos here give you sensible tips on how to deal with any incidences and ways in which to protect yourself from danger. Have fun, enjoy yourself, and stay safe.
Watch this video for sensible tips.
Public transport in Auckland
Auckland, the largest metropolitan area of New Zealand is serviced by three modes of public transport – bus, train and ferry. These services are coordinated by Auckland Transport under the AT Metro brand. Britomart Transport Centre in the heart of the CBD is the main transport hub. International students are eligible for a discount on the public transport services. The HOP card has attractive concessions for Tertiary Students. You can pay your fares on Auckland's public buses, trains and ferries in cash or by using the pre-pay AT HOP smart card. The AT HOP fares are generally at least 20 per cent cheaper than paying cash for the same journey. When using your AT HOP card, you must always 'tag on' when you start your trip and 'tag off' at the end. AT HOP smart cards can be bought online or at many locations across Auckland, including the i-Site shop located in the arrivals area of Auckland International Airport. You can add money to your AT HOP card at various stores around the area, and at the large blue Ticket and Top-up machines around Auckland, located at all train stations and at the Northern Busway Stations. A complete list can be found on the AT Metro website.
All vehicles drive on the left hand side of the road. Before you drive in New Zealand you should read the Road Code to learn about the rules of the road, especially the 'give way' rule which differs from any other country. You must also take out a minimum level of insurance against damage to other people or their property. If you have a driver license from another country or an international driving permit, you may drive in New Zealand for a maximum of one year. If you would like to continue driving, you must hold a New Zealand license. There are three kinds of license, as follows:
Learner License

First you must pass a theory test. If you pass the test, you may begin driving, but only with a supervisor who is an experienced driver. You may carry passengers, if the supervisor agrees. If you use a driving instructor during this time, you will pay for each hour of instruction – roughly around $50.00 per hour.
Restricted License

After six months as a Learner driver you may attempt a practical driving test for a restricted license. If you pass the test, you may drive on your own between 5.00 am and 10.00 pm. For other hours a supervisor must accompany you. You may carry close relatives, but you can carry other passengers only if the supervisor agrees. Drivers from some countries may not need to sit the practical test – you need to ask if this applies to you.
Full License

After eighteen months you may apply for a Full license – you can apply after six months if you are 25 or over.

More information about driving in New Zealand can be obtained from the Land Transport Safety Authority (LTSA), free phone 0800 822 422.
Citizens Advice Bureau

If you've recently moved to New Zealand you probably have lots of questions about how things work here. Citizens Advice Bureau is a great place to find answers to common questions and discover community services available in your area. Youthline also provide a lot of information for young people in New Zealand and activities and events going on in the community.
Need Help Right Now?

Lifeline Aotearoa's telephone counselling service provides 24 hours a day, 7 days a week counselling and support. Call 0800 543 354 to speak with someone who can help.
Civil Defence Emergency Information

Civil Defence are the people who help prepare for and respond to emergencies like major fires, floods, extreme weather, an earthquake or tsunami. Their website has important information on how to get ready for an emergency.
Family Services

Use this directory to locate and contact support for services relating to addiction, basic needs, disaster recovery, education and training, employment, ethnic services, family violence, health, mentors, legal and civil services, mental health, parenting and caregiving, special needs and disability, youth services and ISO capability.
Healthcare and Dental Care

All international students studying in New Zealand are required by the "Code of Practice for the Pastoral Care of International Students" to have a compliant medical and travel insurance for the duration of their New Zealand student visa. NZSE College can arrange the same on behalf of the student with Southern Cross Travel Insurance. The regular insurance policy does not cover dental problems. You will need to consult a private practitioner for any dental problems. Dental care is expensive in New Zealand and you may wish to consider insurance to cover this aspect of your health care.
Eligibility for Health Services

Most international students are not entitled to publicly funded health services while in New Zealand. If you receive medical treatment during your visit, you may have to pay the full costs of treatment. Full details on entitlements to publicly funded health services are available through the Ministry of Health. View these on their website here.
Accident Insurance

The Accident Compensation Corporation (ACC) provides accident insurance for all New Zealand citizens, residents and temporary visitors to New Zealand, but you may be liable for all other medical and related costs. Further information can be viewed on the ACC website.
Postal Service

Post offices in New Zealand are called Postshops. You can find a Postshop near you, and get information about postal services and Kiwibank (the bank that New Zealand Post operates) at the NZ Post website.
Police advice for new arrivals

New Zealand Police has a useful website with information about your rights in dealing with them and advice on preventing crime, plus contacts for ethnic liaison officers in your region. Information is available in 12 different languages.
Community Associations

The Community Directory provides a register of ethnic community organisations and support services available in New Zealand at this website.