Getting started: How to Apply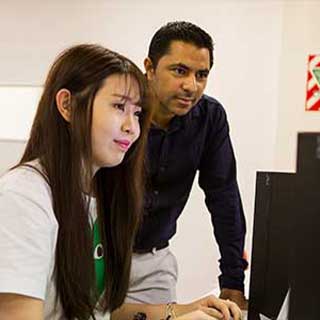 If you are considering study options or are ready to enrol, then get in touch and we can arrange a visit at your preferred campus with a Course Advisor. They will discuss programme options, the enrolment process and can answer any questions you have.
What to bring with you when you visit us
Original Passport or Birth Certificate.
Evidence of Bank Account- i.e. a copy of Bank Statement.
Evidence of your IRD Number.
Evidence of other educational achievements if any
NZSE welcomes all prospective students who are citizens or residents of New Zealand. Otherwise, you require an International Study Visa. People of all ages and backgrounds are eligible for study, with students expected to:
Have an acceptable level of English
Meet the entry requirement of the specific programme
Adhere to the School's policy and norms
Meet the attendance policy
Many of our programmes have specific requirements as part of the application process. You may be required to submit a portfolio of work or attend a selection interview or audition. Competition can be tough for some of our programmes so it's best to come prepared. Check out programme pages for specific requirements or reach out to us with a question and we will be happy to help.
International Requirements and Information
General Entry Requirements

You will need to apply for a student visa from Immigration New Zealand and pay the tuition fees in full before applying for a visa for New Zealand. If you apply from another country, you may be able to get an 'Approval in Principle' before paying course fees.

You must be 18 or older, and provide evidence of skills and interests relevant to the course you wish to take. If English is not your first language, you must demonstrate proficiency in English language.
English Language Requirements

Level 4 Certificates – IELTS 5.5 Academic (no bands lower than 5.0)
Level 5 Diplomas – IELTS 5.5 Academic (no bands lower than 5.0)
Other Diplomas and Degrees (Level 6 or 7) – IELTS 6.0 Academic (no bands lower than 5.5)

Equivalent results from alternative international English language tests are accepted: TOEFL (paper or iBT), Cambridge English Examinations, NZCEL, Pearson Test of English (Academic), City and Guilds IESOL, LanguageCert.

See this NZQA guide of up-to-date requirements for each New Zealand programme level and test.
Student Visa Work Rights

International students enrolled in full-time study with NZSE are allowed to work part-time for up to 20 hours a week and full-time during all scheduled holidays. Visit Immigration New Zealand or talk to us for more information.
Fees Protection Policy

The New Zealand Government requires all private training establishments registered with the New Zealand Qualifications Authority (NZQA), to have some form of protection for fees paid to them in advance.

As a student of NZSE your fees are deposited into the Public Trust's student trust account and paid monthly by Public Trust to the school throughout the duration of your study. For further information visit Public Trust.

This means, in the unlikely event that NZSE is unable to provide the course in which you are enrolled (this could be because of closure, insolvency, loss of NZQA accreditation or course withdrawal), the balance of your unutilised student fees (including accommodation and living expenses if paid in advance) will be protected. You will have the choice to receive any remaining fees back into your account or have the amount paid directly to an alternative provider of your choice where you intend to continue your studies.
International Student Refund Policy

NZSE has policies and procedures relating to refunds as required by the Education Act 1989. Detailed information on timeframes for refunds and how much may be refunded can be found in our Student Handbook.
Grievance Procedures

If you ever feel unhappy about aspects of your studies, the first thing to do is to talk to international staff on campus, your tutor, or the Academic Director. We also have free counsellors who can be booked if you need extra support.

If you feel the issues have not been addressed, you may enter a formal process with NZQA for academic matters. Detailed instructions are found in the Student Handbook and a Code of Practice summary is provided at Orientation.